Tomorrow, Eli has a Bone Marrow Biopsy.  This is in addition to his 5th and last chemo infusion for this round.
For this procedure, the surgeon inserts a couple needles into the pelvis bone on the left and right sides to extract bone and bone marrow.  They'll test to see whether his bone marrow is clean enough to do the stem cell collection.  It doesn't need to be completely void of neuroblastoma cells.  This is considered a surgery, and he will be under anesthesia.
If we get positive results, Eli will prepare for stem cell collection on May 31st.  Preparation involves daily injections of Neupogen starting on Monday.  Neupogen stimulates the growth of white blood cells.  To make this easier for Eli, he will have a catheter placed in his arm for the injections…..  Really, this is to make it easier on Jamie and I because the alternative is to give him daily shots.  I don't think we would survive giving him 8 days of shots.  We've mentioned before how his biggest concern is 'pokes' when we go to the hospital.
Below is a picture of our supplies for the Neupogen.  I feel like I could be Wisconsin's version of Breaking Bad since we have morphine and other drugs.  However, I hated chemistry so I would of never of been a chemistry teacher. I could never get the beaker of fluid to change to the correct color.  That also explains why my pool is always green and not blue.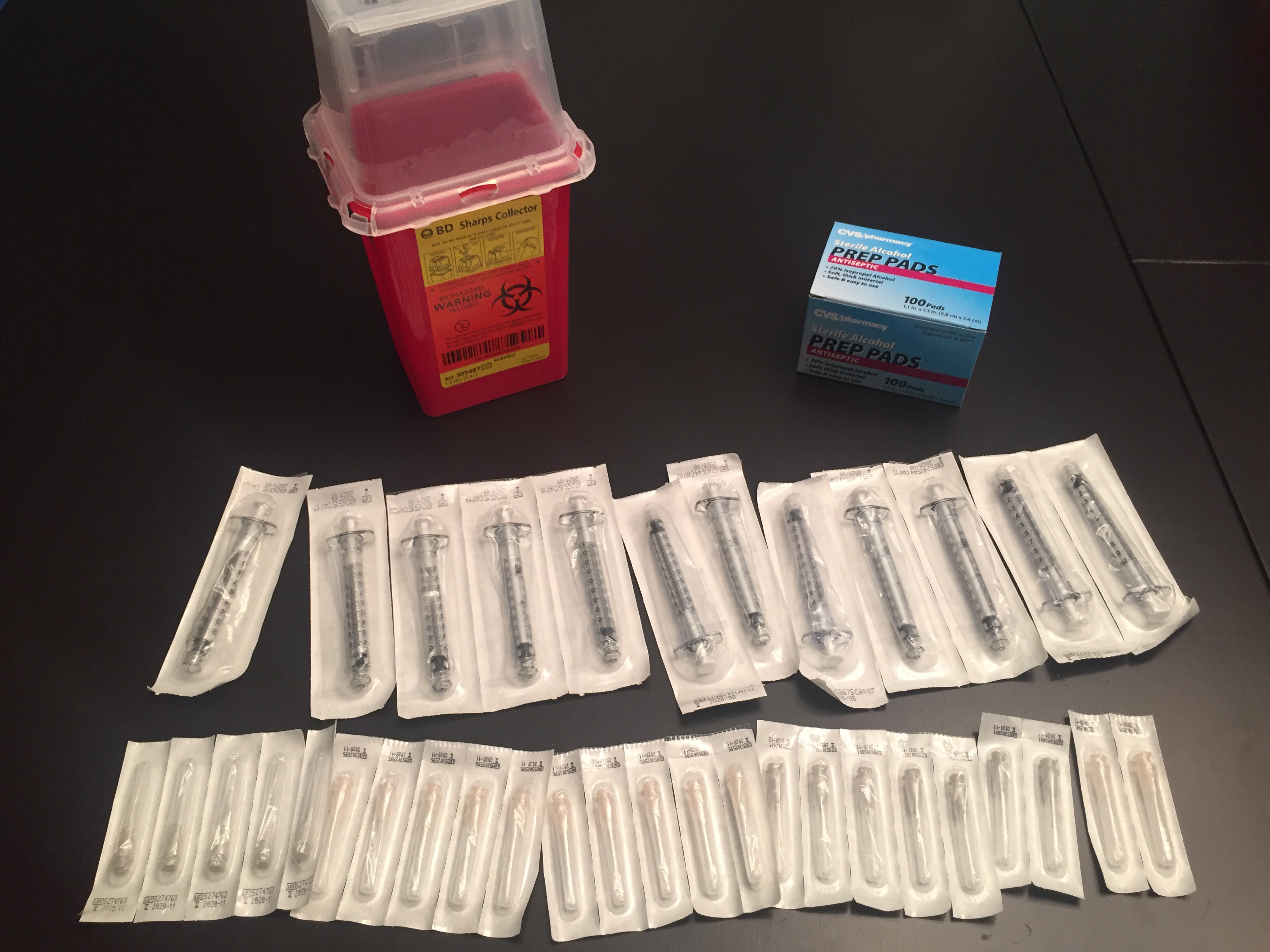 The stem cells are used to do an autologous stem cell transplant after these initial 5 rounds of chemo are completed.  During the transplant, Eli will be given high does chemo to completely destroy the remaining neuroblastoma cells in the blood marrow.  And because of this, he will be in-patient for 3 to 6 weeks during the transplants.
Note: I incorrectly referred to the stem cell steps as Bone Marrow Harvest and Transplant in my previous post.  Sorry, I'm still learning.
So we hope for positive results so that we can stay on schedule.  I guess, please prayer for this; however, I'm nervous that his blood/bone marrow will not be ready.  And if we pray specifically for positive results, and it doesn't happen, then I'm just confused.  It's my dilemma between the randomness of the universe and what God controls.  This sounds like a discussion for a whole new blog post so I'll simply say pray for us, send us your positive vibes, or whatever else you practice.
The doctors also had Neulasta delivered in case we get negative results from the bone marrow biopsy tomorrow.  The Neulasta would be injected only on Monday.  In this case, we would then check at the 3rd chemo to see if the bone marrow is clean enough.  So the sooner we get positive results, the less the number of bone marrow biopsy procedures and anesthesia.
Also note, that we may not get the results until Monday so please don't ask Friday night….  Or Saturday…. Or Sunday.
As always, thank you so much for your thoughts, prayers, and acts of kindness.  I'm sorry that we probably wont individually say thank you to each and everyone of you.  But thank you for:
– Sending cards and gifts
– Making meals or picking up groceries
– Mowing the lawn or weeding the yard
– Watching the kids
– Taking the kids to/from practice and games
– Bringing home our kids when we forget about them (Oops, only happened once so far)
Reminder: T-shirt orders are due by Sunday night.
http://www.dunnssportinggoods.net/teams/2016-elis-super-squad
Eli was showing off his ninja moves tonight before bed.