We're still here at Children's Hospital of WI.  You'll remember that we brought Eli to the ER on Wednesday night.  He had a low grade fever during the day which spiked to a high fever in the afternoon.  They eventually admitted Eli, and we got to 'check-in' to our familiar floor on the HOT unit.  HOT stands for Hematology, Oncology, and Transplant.  This is a dedicated floor at Children's for kids with these diseases.
For the last three days and four nights, Eli has been treated for low blood counts (because of chemo) and possible infection (because of low blood counts).
There are three things that the doctors look at from the blood labs, which are white blood cells, hemoglobin (red blood cells), and platelets.  Chemo does some pretty good damage on these counts, to the point where white cells are almost non-existent in his blood.  Hence, this is why there is the extreme concern when there is a fever.
So how do we treat the low counts?  Eli has a Neulasta shot around 24 hours after he completes chemo.  This will set the white blood cell factory into overdrive once it starts building cells.  Although, it doesn't help it recover any sooner after chemo.  We still have to wait for his bone marrow to recover to make the white cells.  For the red cells and platelets, Eli has received 3 bags of blood and 2 platelets over the last week.  Thank you so much to all those who donate!!!  If you have always thought about donating, know that this is truly life saving for Eli.  He has had so many blood and platelet transfusions so far.  Any one of those times could have turned much worse without the transfusions available.
To combat any possible infection, Eli has been on antibiotics since he arrived at the HOT unit.  The labs didn't show any bacteria; however, the antibiotics were given as a precaution while he had no white cells to fight infections .  It was also possible that bacteria from his intestine has been entering his surrounding tissues.  You ask why?  Eli has mouth soars which are caused by the chemo.  This also indicates that he most likely has stomach and intestine sores which would also be caused by the chemo.  He has been grimacing when the doctors feel around his belly which is a good indication.  These sores will eventually heal when the white cell counts increase.
Today, Eli will still be hanging out at the hospital.  His white cell counts have increased from <100 to 400.  Yea!  However, normal levels are above 4,000.  As long has the counts show that they continue to increase, Eli would be allowed to go home.  He also has not had a high fever for a couple of days.  He'll be here at least one more day, but I'm hoping that he'll be going home tomorrow.
Chris
Playing Xbox with Kinect.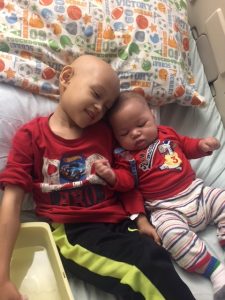 Visit from Alex.
Having fun racing Lego cars on the hospital bed.