It's almost surgery time.  Eli goes in early Tuesday morning to have the tumor removed from his right adrenal gland.  Eli has just one tumor and it is fairly small in size compared to what many other children with neuroblastoma have.  Our doctors are optimistic that this surgery will go well.  Even so…surgery is complicated and has its own set of risks.  Chris and I met with Eli's surgeon, Dr. Lal, while Eli was in the hospital last week.  On our anniversary.  Awesome.
At that meeting we discussed with Dr. Lal the pros and cons of him performing this as a laparoscopic or an open surgery.  Eli's tumor has a piece (which Dr. Lal is calling a tongue) that wraps under his vena cava (a large vein that carries blood back to the heart.)  The short version of a lengthy discussion went something like this: Dr. Lal was unsure about being able to successfully remove the "tongue" portion of the tumor laparoscopically due to the positioning and the risks associated with hitting the vena cava.  But with an open surgery, he felt that he should be able to have a better chance of removing the entire tumor, tongue and all, and should something go wrong they would be right at the source of the problem immediately and able to treat it.  Of course, an open surgery means a longer recovery, more pain, and a different set of risks than laparoscopic.  In the end, we felt that being able to resect the entire tumor was the way to go.  So, Eli will be opened up for this surgery.  By the way, let me just say that it is REALLY hard making decisions for someone else.  And REALLY hard to think of what our baby is about to go through.
So, on Tuesday, please put on your Super Squad shirts (or maybe just wear his favorite color – red) and pray for Eli and his surgical team.  Pray that Eli will be the brave little superhero he always is.  He gets very nervous on procedure/scan days (rightly so) and at this point we haven't told him about the surgery.  We will do that the day prior.  Pray that God will guide Dr. Lal's hands and also the rest of the surgical team so that the entire tumor will be removed without complication.  Pray that Eli's pain will be managed and he will recover well.
We don't exactly know what recovery means at this point.  That is one of the harder parts of this.  With an open surgery, we were told that Eli could be inpatient anywhere from 5-10 days.  Everything depends on how he responds and recovers.  I've made all the plans I need to make for the other four kids through Friday.  Once we have a better idea of how long we will be inpatient I'll be reaching out for more help.  Can't plan too far in advance anymore.  That's just how we roll now.
In other news, Eli is sporting a new accessory.  Exactly one week ago, Chris and I made the decision to have the nurses place an ng tube.  This is a feeding tube that goes up through his nose, down the back of his throat, and into his stomach. It is small and he is still able to eat, drink, talk, laugh, play, and do everything as usual with it in. During the day, he eats and drinks normally.  At night, we run Pediasure through his tube.  We worked with the dietician to figure out how many calories he needs to supplement what he is already eating.  (And what he's already eating is not much.)  We have a pump, IV pole, and portable backpack type bag from our home medical supplier.  Every night at 8:00, Eli gets hooked up.  He is so efficient at moving around wherever he wants to go and just brings his bag with the pump along with him.  It's pretty remarkable how well he has adapted.
Today I can write about the ng tube without crying.  Last week, I was in tears and couldn't talk about it.  Our medical team had brought up getting an ng tube a few times because Eli is so tiny and they wanted to find a way to help him put on some weight.  At our meeting with Dr. Lal, we found out that Eli will not be able to eat for about 3 days after his surgery.  (I'm foggy on the details as to why.  Too much to absorb, but when I get that figured out I can clarify.)  It was then that Chris brought up the idea of the ng tube before surgery to get him some extra calories.  We both know that Eli really has no weight to spare.  If he is unable to eat for 3 days and was already not eating well, he could be in trouble.  Last week when we were thinking about this, he had mouth sores that extended all the way into his belly from chemo.  He didn't want to eat.  At all.
Logically, we both understood that making this hard decision would benefit Eli in the long run.  Emotionally, I went into this kicking and screaming.
I was fearful that this tube would change his positive attitude and worried about him becoming depressed.  He hates his dressing changes for his CVL line.  Hates them!  How would he handle having a tube put up his nose and down into his stomach.  Oh, and these need to be changed monthly?!?!  How would he even hold still for that?  How would he be at home?  Would it get in the way?  Would it remind him every minute of the day of cancer?  I felt like I failed him.  We already tried an appetite stimulant after his first round of chemo.  He hated taking it and was already taking so many meds (all liquid) and it was literally a 20-45 minute struggle to get him to finish his medications.  And then we would have to repeat that about 5 more times throughout the day with different meds.  It was exhausting.  So we stopped the appetite stimulant for a while, basically to lessen the amount of meds he was taking.
A couple weeks ago a wonderful nurse practitioner listened to our frustrations with med taking and suggested to us that we get his meds in a pill form and crush them.  This was AMAZING!  After some exhausting struggles to find the right avenue for him to take the crushed meds, we finally found a winner.  A spoonful of peanut butter!  With that success, we restarted the appetite stimulant.  But what I didn't understand was that it usually takes about 2 weeks for the appetite stimulant to kick in.  I thought it was an immediate effect.  Looking back at the timeline, he really didn't get a chance to eat enough to make a difference on his own.  When he was up to eating, we ran into roadblocks like chemo, or mouth sores, or a few days of NPO during stem cell collection.
Every time I thought of all these things, I just felt like I failed him.  If only I had continued to struggle through all the meds with him and make him take the appetite stimulant from the beginning.  If only we learned about crushing it sooner, we could have re-started the stimulant sooner and gave him a better chance of wanting to eat more.  I never wanted this ng tube for him and I was falling apart knowing it had come down to him getting one.
Let's just say that when it came time to put the ng tube in, all my worst fears were confirmed.  I held him tight, restraining his arms as two nurses put the line in.  He was screaming, gagging, and crying.  I was fighting back the tears and wanted to run out of the room screaming myself.  It is SO hard to hold your baby and make him do hard things when you don't want him to have to do any of it.  He was so upset.  He refused to talk for about a day and a half.  He would grunt and scream and growl, sometimes stomp his feet, while pointing angrily at things to communicate to us.  He started hitting me in the hospital.  He was very angry about the tube.  The staff said this is common, but hang on because kids tend to come around.  I was having a hard time believing it.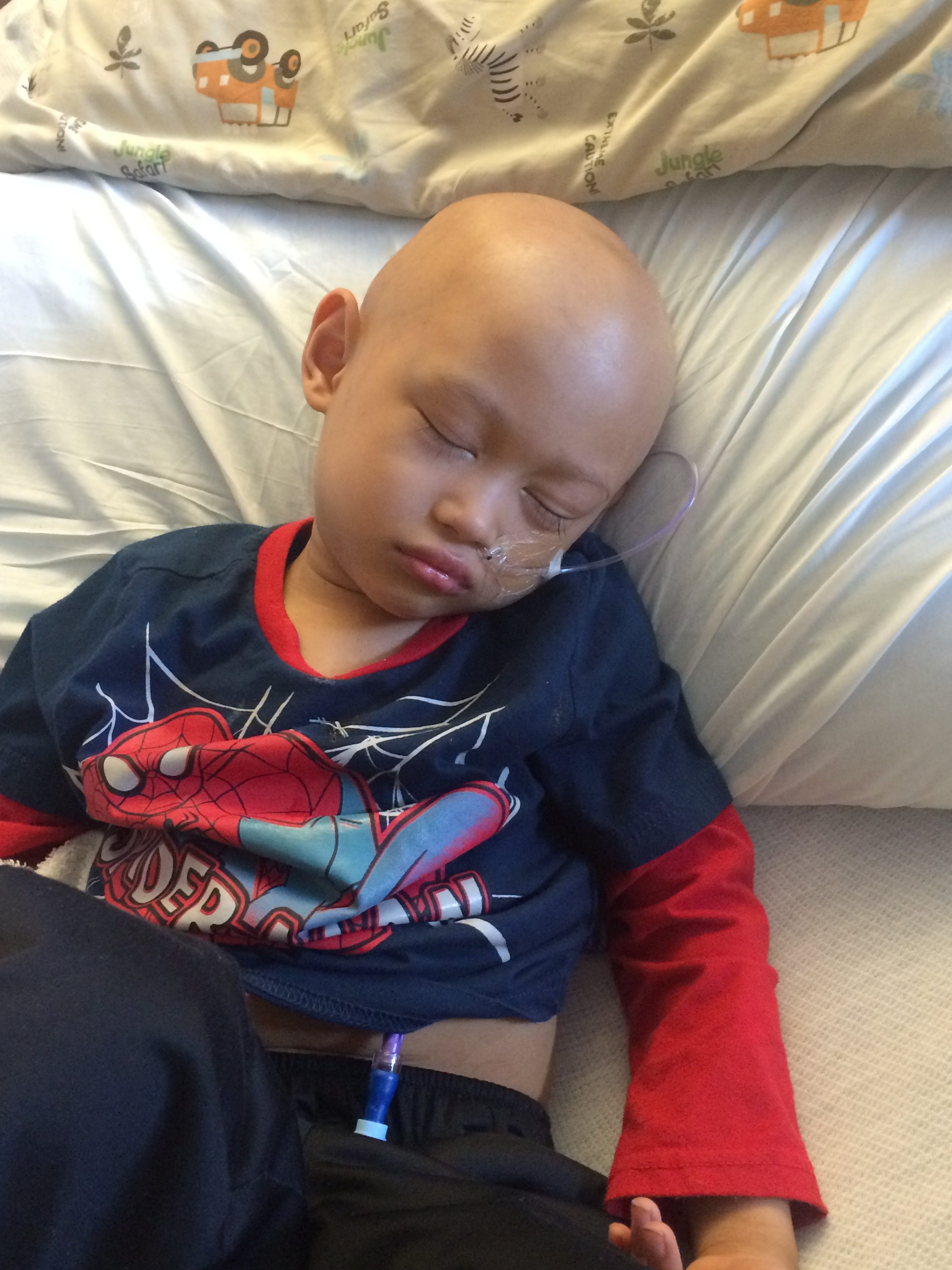 Here is Eli, finally asleep.  He was exhausted from the emotional trauma after his tube was inserted.
We came home on Monday afternoon last week and Eli continued to be quite angry.  The 3 big kids were away at Camp Kesem, and it turned out to be a good week for them to be gone so the rest of us could adjust to this new tube.  It was a hard week. It was emotionally exhausting with all of Eli's yelling, anger, frustration, noncompliant behavior, and also the guilt I was feeling.  And truthfully, I was mad he had it too.
He started coming around mid-week.  He started talking again and eating/drinking without complaint.  One thing he still doesn't like is the feeling he gets down the back of his throat when we have to flush his ng tube line with plain water twice a day.  But just yesterday, the little stinker told us that now he likes his ng tube.  Seriously?  After a week of hell?  The staff was right.  He came around.  And so did I.  We are watching the scale climb a little each day and I know in my heart that we did the right thing for him.  For that, I'm glad.  Sometimes it's just really hard doing the logical thing.
In typical Eli fashion – he likes to have as much control as he can.  He prefers to flush his ng tube with water himself and likes to press the start button on the pump once it's all ready to go.
Eli had been asking no less than 3 times a day for about the last week when we can go back to the dinosaur museum to see Sue (the T-Rex).  We decided to make an impromptu get-away on Friday afternoon, because we just have no idea when we'd be able to get him back there since big things with long hospital stays are coming up in the next few months.  He was so excited.  We had a great time.
Looking ahead through the fall:
Surgery July 26 (in-patient 5-10 days?)
Chemo 5 (likely the 1st or 2nd week of August.  There is a possibility that we go straight from surgical recovery floor back to the HOT unit for chemo.  Hopefully, this is not the case and we get a few days at home.)
2 rounds of High Dose Chemo/Stem Cell Transplant (no dates set yet, but likely a month or so after chemo 5.  High dose chemo will wipe out his immune system and he will receive his stem cells back.  In-patient stay about 3-6 weeks each time.)
Radiation
Immunotherapy 
Neuroblastoma is the longest and most intense treatment plan.  The kids are hit with so many different kinds of chemo (and hard ones) because it's such a difficult cancer to treat.  It's just such a challenging road for these little peanuts and families.
Thanks for all your continued love, prayers, and support.  We are so thankful to have all of your in our corner!  Much love!