I received so many nice messages and texts of support the morning before chemo – thank you!!! But, two in particular gave us a sign that we have a new theme.
From Auntie Mary:
"Good luck today — sending EXTRA prayers for this next round of the match!
Go Jamie – we're in your corner."
From my friend Dacia:
"…you start a new round of meds today?!? You're like a boxer…onto the next round!
Go get 'em Tiger!"
To Dacia's text I replied:
"Thanks! Looking for a TKO at the end of this.
LOL, I hope that's the correct term. I don't know much about boxing. Ha!"
***If you're not into boxing, that stands for Technical Knock Out. I don't really know what that means, but I've heard it used when a boxer WINS!***
Yes…our theme became BOXING! That's a good way to Kick Some Cancer Butt! Chris said we need a song, because into his head popped the words of LL Cool J, Mama Said Knock You Out (click on the title to hear song) So, this mama is keepin' it clean and knockin' the cancer out.
Today I was nervous. Mostly nervous for the unknown of starting 2 new meds. I've been told by two of my fellow mommy-cancer-warrior-survivors who completed/are completing my exact path that compared to the drugs I just ended, the new ones, Taxol & Herceptin will be a breeze. My nurse sister-in-law, Dana, (newly graduated with her PhD!) confirmed this from what she saw as a former chemo drug administrator. At my appointment, The. Fabulous. Rachel. my oncology nurse, agreed. The nauseousness (if any) should be mild. I do not have a calendar of mediations to take anymore!
There are, however, a few things to watch out for in the coming weeks. They said the following side effects are not usually felt until after 3-4 treatments. So, we'll see! Things that may occur are neuropathy (tingling hands & feet) and weakened nails (possibly falling off…ewwww!) Rachel again stressed that this doesn't happen to everybody. Hoping for the best here!
Although the after-treatment effects will be a breeze, the nurses have provided a list of side effects that may or may not be present during the treatment. (thickening tongue, closing throat, feeling dizzy, and a few others.) Should these side effects occur, have no fear…there is a line-up of medications sitting on a tray. A little intimidating. My chemo nurse said she will check on me about every 30 seconds during the first 15 minutes, again several times during the second 15 minutes, and will also be monitoring my vitals on every 15 minute mark for the hour.
I tend to be a worrier, though, and I try so hard to give it to God, take deep breaths, and relax. Please, just let me get through this without reactions. I'm still a nervous wreck, watching for any of the signs she has mentioned that could be potentially dangerous. A few "odd things" happened that caused her to say "hmmmm, we'll keep an eye on that." I guess it wasn't cause for concern because it never got worse. So…maybe it was nerves? Who knows with me…I'm always complicated with new meds.
Despite my general feeling of nervousness, I must say it was a great day.
In no particular order:
1. We're onto the "easier" meds, and one of them, Herceptin, is known to attack (very effectively) the Her2Nu hormone, which is the only one for which I tested positive. Go Go Go!!!!
2. The Amazing Dr. Chang again reported that he can NOT feel the lump. In weeks past, he has been able to feel a little something. Today he says he feels nothing. He mentions that Dr. Yen (surgeon) may be able to do a lumpectomy instead. We're not getting hopes up yet. We still have to see results from the MRI in October to determine what really happened with the calcifications. Once we talk with Dr. Yen, we may have options. (Side note: there is a 30-40% chance that the cancer will shrink to nothing. NOTHING! Isn't that unbelievable?!?!) To be honest, we have about 3 different paths we could take based on results and testing.
3. We got our favorite chemo nurse (so far)! The price we paid for having her was being squished in the smallest room with a lovely view of the construction taking place outside. But, hey! We love our Tanya!


4. I got a tuna sandwich from the Bistro. I love The Bistro in the Cancer Center. It serves only healthy foods and they are so yumm-o! Chris had to go elsewhere to find a vending machine for his Diet Coke (no sodas at the Bistro) and I conned him into getting me some Cheetos (which are also not served at the Bistro!)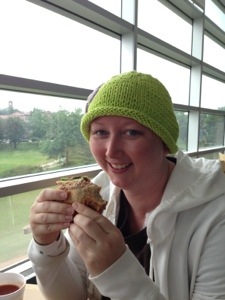 5. I was successfully able to hide aforementioned Cheetos from Deena, our nutritionist. As I was munching on them in the waiting room, she walked by and said she would be meeting us in the chemo room once we were settled. Ahhhh, did she see me eating something that was not-on-the-approved-list-of-healthy-snack-options? Not sure, so, I did what any reasonable person would do…put the bag in my purse and smuggled them from purse to mouth, one-by-one so when she came in, I could just close the purse. No evidence. But later… Chris informed me that I had Cheeto crumbs on my chest. Evidence. Thanks, babe. That would have been GREAT to know before she waked in! I'm sure I was busted, but she didn't say anything.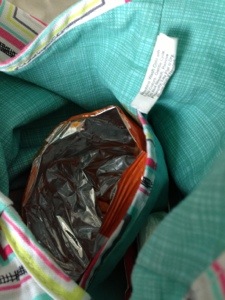 6. Praise be to God, I did not need even one of those medications lined up on the tray.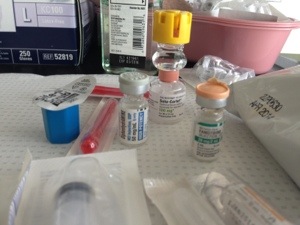 Treatment took 30 minutes for the pre-meds, 30 minutes for the Herceptin, 60 minutes for the Taxol (that's the one where she monitored me like a hawk). And we were on our way by almost 5:00.
7. Already, I'm feeling pretty good. I came home feeling a little on the nausous side, but I'm sure that's because I was hungry. So, we ate some delicious tacos provided by the Van Domlen family and I felt better within minutes. Tonight, I was just a bit tired, but not queezy like I had been in the past right after chemo. So, a little rest, water, tv, and it felt like one of my good days towards the end of the Adromycin/Cytoxin rounds.
Hoping this good feeling continues throughout the week and in the 12 weeks to come! Hoping to hear Cancer-Free in a few months. Hoping my medical dream team, personal support team, and I can be the ones to ring the bell and give that cancer a TKO!
"May the God of hope fill you with all joy and peace as you trust in Him, so that you may overflow with hope by the power of the Holy Spirit." -Romans 15:13