Today was my second Herceptin/Taxol treatment. This visit was a little different, in that I only had my blood drawn at the lab and then went straight to the Day Hospital for treatment. No visiting with my Dream Team of doctors at every visit anymore. We'll do that once a month now that I am a weekly visitor. The other difference is that Chris did not come. He is just not able to take time away from work every week. After all, he's got to bring home the bacon. He will, however, come to the monthly appointments when we see the doctors. Instead, Mom accompanied me bright and early for my 6:40 am appointment at the lab and 7:40 chemo. Unfortunately, things were delayed at the Day Hospital so we didn't get taken back for chemo until 8:45. But, we did get a room with a bed and recliner. So I took the bed and Mom got a comfy chair!  Home by noon(ish), so only a 5 1/2 hour day.
I was pretty nervous today. And my blood pressure gave it away (a little on the higher side than normal). I was at an emotional low last night and today. Crying before bed, causing my logical husband to try to best figure out how to deal with crazy emotions.   And then I lost it again in the car with my mom on the way to chemo.  I can't even articulate what I was sad about…just the whole thing in general. Its overwhelming at times. And then, I think about all the potential side effects and get all worked up in my head. And nervous.
It was only mildly comforting to me that I did well last week with no reactions. Last week, I was monitored by one of my favorite nurses every 2 minutes at first and then blood pressure every 15 minutes. Today, my nurse (a different nurse) still monitored my blood pressure/checked in every 15 minutes. This time around, they were still watching for allergic reactions that can occur with these drugs. (Remember the tray of "just in case meds" from our post last week?) Good news again today. No thick tongue. No dizziness. No dropping blood pressure. I think it's safe to say that I am tolerating these drugs well.  10 more Herceptin/Taxol treatments left.  6/16 total treatments done.  Plugging along…
The kids stayed at my parents house during chemo and then came home later this afternoon. I was able to rest at home in a quiet house. I was tired but couldn't sleep (steroids again!) so I just hung out on the couch. A little thinking. A little praying. A little Netflix. And so far I feel pretty great compared to how I used to feel when I came home from chemo. No sickness. No nausea. I feel kind of normal, just not energetic.
That being said, I am still taking it easy. My immune system is compromised. My cancer cells AND my heathy cells are being crushed right now. I am very paranoid. Paranoid about getting sick and landing in the hospital. I have heard horror stories of young moms like me who got an infection, were admitted to the hospital, and never made it home. While those stories may be rare, the truth is, they happen. I refuse for that to be my story. I have too many people here who need me. I am not done mothering. I am not done being a wife. Or a daughter, sister, friend…
As one of my young-mom-breast-cancer-warrior-friends said, this cocktail is "Chemo Lite" but it IS still chemo. Just like Miller Lite is still beer. So I will still take it easy. In the grand scheme of things, it is only 7 or 8 months of craptasticness. Months that feel like forever right now but will seem like a blink of an eye years from now. I will do this.
Back to today…after another yummy dinner dropped off for my family (thanks Rachel!) Chris took all four of the kids for haircuts. Seriously!?!? Have I mentioned that My Husband Is A Super Dad!!!! I'm one lucky girl! Then we all watched American Ninja Warrior. Have you seen that show? Fun for the whole family!
Watching this show resulted in an episode of Hansen Ninja Warriors in our living room. This involved our kids doing karate moves, gymnastics, a soft football being tossed around, tackling, and yes…the start of an obstacle course which I quickly had to put the kabosh on because of the possibility of a couch tipping over. Nevertheless, Owen took this obstacle course of strength very seriously. Watch out for this future contestant in about 20 years. And be sure to check out his impressive six pack (of ribs!)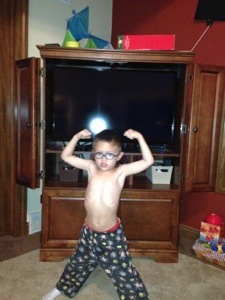 I am cherishing and loving moments like tonight, just soaking in the awesomeness of my four little blessings.
I am thankful that today went smoothly and without complications. I am thankful that I feel as well as I do. Thank you, God, for today's answered prayers.
If you are willing to pray specific prayers for me, please pray that:
1. The cancer continues to shrink & ultimately disappear
2. My body will remain healthy and strong…please, no sickness or hospital visits!