You're off to Great Places!
Today is Your Day!
Your Mountain is Waiting,
So…Get on Your Way!
-Dr. Seuss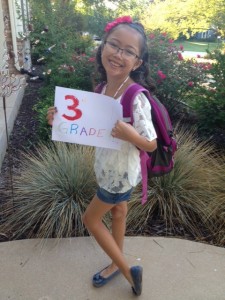 Ahhh, another school year!  I watched the girls get on the bus on Tuesday and remembered my own feelings of nervousness mixed with excitement which came on the first day of a new school year.  Looking forward to seeing friends.  Wondering what the new teacher will be like.  Opening the new box of crayons, newly sharpened pencils, fresh notebook…  I'm a sucker for school supplies, can you tell?
It's a Dr. Seuss theme at school this year.  It is SO fun to see all the Dr. Seuss inspired decor in the hallways and classrooms.  In really exciting news for Ella…at the end of last school year, her drawing was chosen to be the school t-shirt and yearbook cover design.  (See below)  Unfortunately, the school is going through hoops to get permission to print her design because of the use of "Dr. Seuss" characters.  So, please…whomever it is in Dr. Seuss-land making this decision, please approve this drawing done by a sweet 8 year old girl and allow it to be used as the school t-shirt!  Regardless of what happens, we are so proud of her talent and excited for what this honor has done already for her confidence!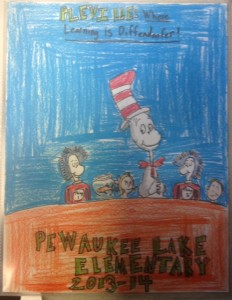 Owen starts afternoon 4K next week Monday.  It will be a little bit of an odd feeling to just have 1 child at home.  Hopefully Eli will fully cooperate by taking a nice nap every afternoon so I can too!
Chemo #4 of this segment was completed on Monday.  1/3 of the way done.  Wahoo!  I had a bit of a scare, as the nurse told me my white blood count was on the low side and she needed to call Dr. Cheng for permission to go ahead with treatment.  Being the little-bit-paranoid person that I am, I emailed my oncology nurse practitioner asking what I can do about these low white blood counts.  As it turns out, she was not worried and said all is FINE.  Something must not have been updated properly in my charts, because on chemo day, my count was 1.47 and   during the weekly treatments, anything over 1.0 is considered good.  Back during the first segment of chemo (when I went every 2 weeks) they like to see it at 1.5 minimum.  In the end, all is well on that front.
Now that the school year is officially in full-swing, we are trying to be as careful as possible with germs.  Although my white blood count has been good, I am still at risk for taking a longer time to recover, should I happen to get sick.   The kids are armed and equipped with hand sanitizer in their backpacks and desks.  They know to sanitize the minute they walk in the door.  We have jumbo containers of sanitizer by each door.  We might be a little over the top, but we'd rather be too safe than sorry.
And unfortunately, the germs have invaded sooner than we would have liked.  Chris has been under the weather for about a week now.  As a result, we didn't do much over Labor Day weekend.  And, (gasp!) he actually stayed home from work on Wed to rest.  Today I woke up with a sore throat/achy ear.  I hope it's nothing more than the typical allergy-type symptoms typical to this time of year, but I'm not really sure yet if it's a cold.  So, yes, the little-bit-paranoid part of me is nervous about getting sick.  I was told by my nurse that since my white count has been good, I should be strong enough to fight off infections but it just might take longer.  So, I was instructed to rest when I feel the need and pump the fluids.  And so, I will follow the rules.
So far, I am following the same pattern as the last few weeks.  Not much sleep on Monday night and a decent amount of energy on Tuesday (residual steroids).  Wednesday I am a bit tired and my muscles feel fatigued.  Today I was pretty tired (most likely from this cold-thing) and so I rested a lot.  Hopefully by this time next week, we will all be healthy and back to normal!
As for the kids…as Dr. Seuss said, they ARE going places this year!  The first 3 days of school have already been great.  We are blessed with amazing teachers who are understanding of our situation and have offered immense support already.  Thank you, God, for the dedication of the wonderful people in the teaching profession.  Please keep my children, along with children and teachers everywhere, safe and healthy this school year.