This was a little bit of a mixed-up week.  Normally, today would have included labs, doctor visit, and chemo, which takes the majority of the day.  Today was also Owen's first day of 4K.  Sentimental "mommy moment" here…I wanted to be around to get him ready for his bus and send him off on his first day of school!  Since he is in the afternoon class, we re-arranged the schedule so I only had labs and met with my doctor this morning and  were able to get home before Owen left for school.  Chemo will be tomorrow instead.
Here is one excited boy, ready to do this school-thing!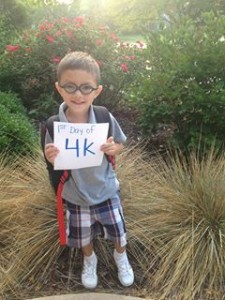 Melt my heart.  Two of my guys waiting together for the bus.
I am happy!  Earlier this morning, I left my oncology doctor appointment feeling great!  I just love when Dr. Cheng tells me everything is looking really good.  It is my own interpretation, but I am convinced he was giddy with excitement when he told me this.  Of course he can't promise anything, so I doubt he will ever be openly giddy.  But I can see his facial expression change and reflect excitement.  He might even know that I know.
He said my blood work from the lab is looking good.  (My counts are even better than last week, which is a little odd to me because I do have some sort of a head cold thing going on.  I was nervous that my counts would be low today.)  All organs appear to be functioning really well.  He can't feel the tumor anymore.  The discharge I had at one time is no longer present – this is exciting to him today.  I love when he smiles at me and tells me that I am responding well to the chemo.
I wish I knew what is going on to make this work so well for me.  I feel blessed and lucky…chemo is hard on the body and I know there are a lot of people out there who experience a lot of side effects that I have not.  I know I'm getting a TON of prayers (THANK YOU!)  I am trying to eat as healthy as possible and following the rules of my dietician.  I am resting when I need to, which is only possible because my mom has become super-mom/grandma and is around to allow me this luxury.
And…I am drinking my warm lemon water every day.  Early on in my diagnosis, an extremely kind woman and breast cancer survivor from my church called to offer her prayers and support.  One piece of her advice was to squeeze half a lemon in warm water and drink that every morning before I eat or drink anything else.  She told me that the chemo drugs will take an ugly toll on organs, especially the liver, and this was one easy way to keep my insides strong and healthy.
When she called, I was not at a point where I could even fathom researching this.  I was adjusting to the words "you have cancer" and scheduling a billion doctor appointments.  So I just trusted her.  Why not?  I don't drink coffee or tea.  My cute coffee mugs sit empty unless I make hot chocolate.  I could fill up one of those babies every day and have a warm drink in the morning.  Heck, it might be relaxing.  You know, wrap my hands around a warm cup, put my feet up, gaze out the window, think, pray, read…
HELLO!  Back to reality over here…there are four small kids living in this house!   Make the warm lemon water, I do.  But, the relaxing part – not happening.  I drink it amid the chatter, commotion, and sometimes fighting of my four blessings while we do all that is involved in waking up for the morning and getting ready for the day.  I can't say there is much relaxing going on.
But, I can say that after three months of warm lemon water every single day, I found out that my angel from church was right!  There are a lot of benefits to drinking lemon water…one of them being an antiseptic that has a cleansing effect on liver, kidneys, and blood.  Well, thank goodness I chose to have blind faith.
Is this the miracle potion that is keeping my insides so healthy?  I have no idea.  But, drinking warm lemon water is what I have done.  And something is working that makes Dr. Cheng excited about my lab counts and my progress.  So, warm lemon water every morning it is!
As we plug along for the next 7 weeks of treatment, I hope and pray to continue to have conversations like this with my nurse:
Have you experienced:
Fevers?  No.
Chills?  No.
Mouth sores?  No.
Headaches?  No.
Nausea?  No.
Bleeding?  No.
Coughing?  No.
Diarrhea?  No.
Constipation?  No.
Neuropathy?  No.  (This is tingling in hands and feet.)
Every single time, she looks surprised at my answers.  I guess this might not be what she normally hears.
Thank you, God, for keeping me healthy and strong so I can continue kicking cancer in the butt one day at a time.