Happy Dance!!! Today was treatment 6/12 for the Herceptin/Taxol round. Yes…that means HALF WAY DONE BABY!!!
I'm feeling like a pro at this point. For these weekly non-doctor appointments, Mom and I show up at the lab first. They draw blood through my port. Then we go up to the Day Hospital, check in, and wait while the pharmacy mixes my cocktail. A pretty boring cocktail at that…no pool tables, dart boards, and dance music in the waiting room. Ha!  They do have pretty good coffee (I've been told – I don't drink coffee) and the hot chocolate is fine (love me a hot chocolate…my drink of choice, besides warm lemon water of course!  

)
After about 45 minutes-1 hour, I am called back to the chemo room.  The nurse hooks me up through my already accessed port (no extra needle pricks!) for pre-meds, which include Benedryl (the cause of my drowiness later) and some other meds that Chris probably knows the names of and I don't pay attention to.  This drip lasts 15 minutes.  Then I begin the Herceptin for 30 minutes.  Rinse/flush the line for a few and then comes the Taxol for 1 hour.  Rinse/flush.  Unhook.  Done.
I am portable (thank goodness because I drink so darn much water that I have to pee all the time!)  We unplug my little machine and I just wheel it with me to the bathroom.  It keeps delivering the goods and all is right in the world.
Have I told you all about my favorite thing… the tuna sandwich?  They sell it at the Bistro one floor below.  Mom and I have been bringing fruit and snacks but today's treatment overlapped with lunch, so she treated me to a tuna sandwich for lunch. Pure. Deliciousness.
We have a tv in the room, so on Mondays I am now catching up on the Kelly & Michael show that I never get to watch at home because I'm busy being Mommy. And Betthany's new show now too. Mom and I chat. I nap when the drowsiness kicks in. Mom entertains herself with crosswords. The nurses pop in to check on me, say hi, and chit-chat. All in all, it's about a 4 1/2ish hour day.
Today I was BLESSED with a visit from my bestie Leah and adorable baby Mallory for about an hour of chemo.  She texted me the night before and asked if they could stop in during my treatment. What a great way to pass the time AND have an uninterrupted conversation. Seriously, uninterrupted is rare.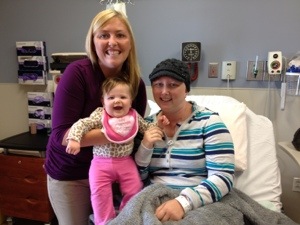 Someday we'll be able to enjoy our "mamatinis" (a drink Leah invented) and simply chat and enjoy life together. We met when we were preggo with our 4 year olds.  Since then one or both of us has been pregnant, nursing, and now cancer.  Because of these life events, our "mamatinis" have been sadly, limited.  In this season of our mothering, we mostly have the kids with along when we are together.  Collectively, the munchkins are 8, 6, 6, 4, 4, 19 mo, and 6 mo.
This is how our visits typically go:  One of us shows up at the other's house.  We send the kids off to play.  Settle in to catch up on life.  Stop and start conversations countless times to take care of whomever needs us at that moment.  Change a diaper.  Get a snack.  Save a life.
Resume conversation.  Usually with a completely new thought.  Repeat.  Typically, we have about 5 on-going conversations.  At least twice, we will roll our eyes, sigh, and laugh because it's very common to hear one of us say "hey, finishing up on that thought 45 minutes ago…)  Who can relate to this?  Probably every mommy out there.
Good thing God built women to multi-task!
Anyhow, we had a great time today.  Leah did have to bust out pretty quickly to be (hopefully) on time for her son's 4K pick-up because we weren't watching the clock closely.  Oops!  Regardless, so thankful for quality time with a great friend!
Light at the end of the tunnel approaching…last chemo is scheduled for October 28.  This is assuming all continues to go well each week and we don't have to skip any.  Wahoo!