Did you know that the Hansen family is a self-proclaimed band of Super Heros? Yes, indeed…we are the "Cancer Crushers."
***The story you are about to read has been floating around in our heads for a few months now.  And someday we are hoping to write a children's book.  I'll do the words, Ella will do the illustrations.  Yikes!  Did I really just put that out there?!?!  It took me a long time to decide if I should share this story on our blog…you know, copycats exist and it would be a sad thing if someone came out with our book before we did.  
  But, I decided to have faith in humanity and share our story with you anyway.  Here it goes.***
Owen, at age 4, is very into all things super hero. When we first started to explain this crazy cancer thing to the kids, we tried to relate to Owen in a way that would make sense to him. Here's what we came up with:
There is an intruder inside of Mommy. It is yucky and bad. It is making Mommy sick inside, but it's not the kind of sick that you can catch. You can still hug her, kiss her, sit on her lap, and you won't catch the yucky sickness. The yucky stuff has a name and it is called Cancer. It's right here. (We pointed to the spot where the lump was.) It can't stay in there. We need to get it out. We want Mommy to be healthy. But, to do that, we need some super-power help.
So, Mommy is going to see some doctors. The doctors are like Super Heros who have the powers to kill Cancer. They are going to put some special medicine her body that is a powerful weapon that only Doctor Super Heros have. It's called chemotherapy. It's going to go in through a tube and kill Cancer a little bit each time. Mommy will have to go lots of times because Cancer is strong. Mommy will get tired a lot and maybe even sick because her insides are having a battle with Cancer. We just can't see it.
Even if Mommy is tired or can't play all the time, she still loves you so much. And guess what? YOUR LOVE will help crush Cancer too. So, Mommy needs her at-home Super Heros to help crush Cancer. That's YOU! You are now a real life Super Hero. You kids can crush Cancer with love by giving Mommy lots of hugs and snuggles, being extra good listeners, cleaning up your toys and messes, praying for the Super Hero Doctors to crush Cancer, praying for Mommy to feel better and that her Mommy's insides are winning the battle.  And the most powerful thing of all is to tell Mommy that you love her.
And then, our resident-artist (Ella) made this picture. It is our superhero family, "The Cancer Crushers." I"ll explain the details below, because folks, this is not just an ordinary picture.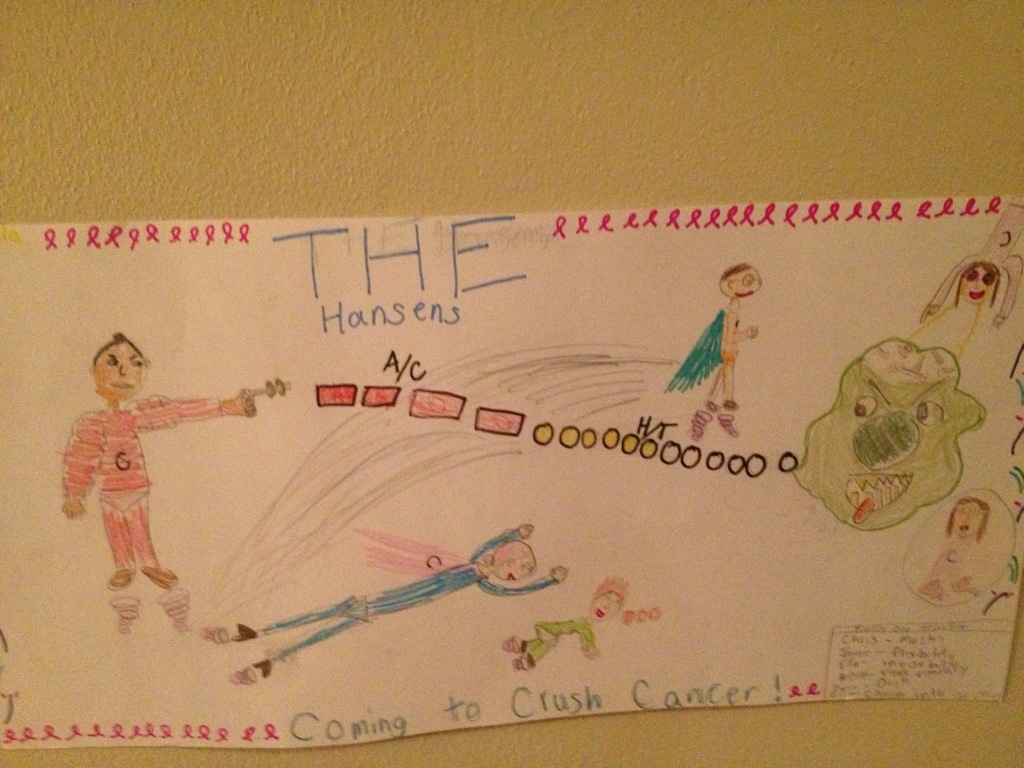 Title:
The Hansens
Coming to Crush Cancer!
Around the picture is a border of pink breast cancer ribbons. Chris is shooting the chemo at the ugly green Cancer blob. There are 16 pellets coming out of his gun. 4 of them are rectangles that the kids colored in red after my 4 treatments of Adriamycin/Cytoxin (because the Adrriamycin was the "Red Devil"  
). The remaining 12 are circles that they color in yellow after each of my Herceptin/Taxol treatments.
Yes, it is a countdown chart!!! (Isn't she clever?)
We all have a "C" somewhere on a cape or shirt for "Cancer Crushers."  And we each have a special super power,which she has listed at the bottom right corner of the picture.
And in the picture, we each have a job:
Chris (Mister Muscles) is shooting Cancer with the chemo gun.
I (Flexibility) am avoiding Cancer with my flexibility to tell Cancer it won't win.
Ella (Invisbility) is sneaking up to attack on Cancer in her little invisible bubble.
Abby (X-Ray Vision) is shooting beams out of her eyes to crush Cancer.
Owen (Dash) is running full speed ahead in a full-out attack on Cancer.
Eli (Change into Anything) is spitting fire at Cancer.
My creative little genius came up with the whole concept herself. I think she's pretty brilliant.
I LOVE that we're working together as a family to Crush Cancer.
And, you…as supporters of our fight (should you accept) are officially invited to be members of the Cancer Crushers too! Feel free to come up with your own super hero name and/or power.

Yes, we are Crushing Cancer every day though the power of love, prayers, and chemotherapy.
Only one thing is missing from our real-life Super Heros…the capes.