So far everything is going as scheduled.
We arrived at 6:00 and checked in. All the doctors stopped by to see how Jamie is doing and answer any questions. At 7:30, Jamie was taken to Nuclear Medicine where she is now. This is where a tracer is injected and imaged to see which lymph nodes are the first ones that the breast drains to. This only being done for the right side.
Jamie is doing well. On the outside, she seems pretty calm. It was reassuring for her to see and talk with the doctors. On the inside, she was definitely starting to feel the nerves which were indicated by her elevated blood pressure. Fortunately, she's able to take some medicine to calm her.
Actually, she's been handling the last few days amazingly. Last night, she said she was a little bit excited for today. Say what?! She's excited that all the cancer could be removed today. Keep those prayers going.
So the "product of the day" is the heated gown that Jamie gets to wear. It can be used for either cooling or heating.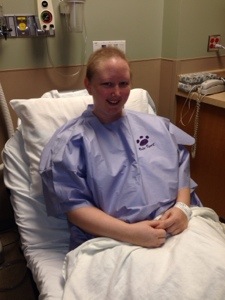 Thank you for all your thoughts and prayers. Keep them going.