Summer is going waaaaay too fast!  I had intended this to be the summer of zero commitments/play every day by ear/fly by the seat of our pants.  That didn't happen.  Both girls wanted to take summer school classes (when tennis, zumba, basketball, crafts, and acting are the things they choose and it's basically FREE, how do I say no?)  All three kids spent this week at VBS and loved it!  Next week will begin our three weeks of zero commitments/play every day by ear/fly by the seat of our pants summer days before school begins.  (Well, except for the girls' dance class and Owen's tball & gymnastics.  Sigh.)
Although we are busy, it's been a FUN busy.  When people ask how our summer is going, I can't help but think it's a million times better than last summer!  No hard core chemo.  No steroid-induced insomnia. No major fatigue. No nausea.  No sitting back and watching things happen.  This summer, I'm IN!  Hooray!
In addition to the normal summer stuff like swimming, library, and playing, our family activities have included: (feel free to skip this long list…it's just for my benefit to remember!)
*Day Out With Thomas and Bay Beach Amusement Park in Green Bay
*Waukesha County Fair
*A Perkins' family gathering at Chris' Uncle David & Aunt Barb's amazing organic farm! (Go "like" Vermont Valley Community Farm LLC on Facebook to see all the cool happenings!)
*Watched my brother Dave and cousin Joe's baseball team play at Miller Park, complete with Brewer apparel and all.
*Watched my niece, Hadleigh, play softball on Helfaer Field (on the ground of the old County Stadium)
*The three big kids did the JJ Watt 1K Fun Run and Chris completed his first 5K.  The highlight was EVERYONE got a high five from JJ at the finish line!  (see picture below)
*Strawberry picking with Grandma & Grandpa O.  We loved getting fresh strawberries to make Chris' favorite strawberry shortcake for his birthday.
*The girls marched in the 4th of July parade with their dance team, and Owen rode with Grandpa in the Model A.
*Chris & I celebrated our "Lucky 13th" wedding anniversary with an impromptu night out for margaritas and table side guac.  Y-U-M!
*We watch Owen play tball every Tuesday night, which is…let's say…interesting.  Owen takes it rather seriously, which is not the case for all the kids at this age.  A comical highlight was during the first game when one of the kids hit the ball, proceeded to chase it down and bring it with him to first base.  Oiy!
*We spent an awesome Sunday with my college roomie, Rosa, her husband and adorable daughter, who were back in the midwest from Santa Monica, CA.
*I had another awesome day playing with two other college roommies, Kristi and Mandy, and their sweet kiddos.
***And there is still more summer left!
I have continued going for Herceptin every three weeks.  The girls joined mom and me for one of my treatments at the end of June.  They were curious about the hospital and how my treatments actually worked.  Once we arrived, I think they were less interested in how my port is accessed and what is in the IV lines and more interested in the fact that the nurse fussed over them and gave them a long list of choices of things they could eat and drink while at the Day Hospital.  So while I had cancer-fighting hormone targeted drugs pumping through my body, my girls had plenty of sugar pumping through their little bodies thanks to their choices of sprite and sherbet.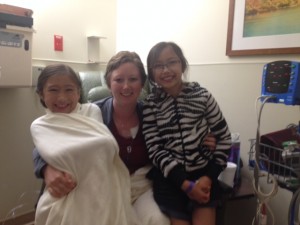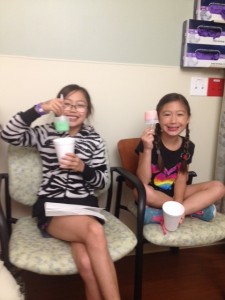 I went in for an echo this past Monday.  Although I won't get official results until next Monday, the tech said he did not see anything concerning.  That's great news!  On Monday, I have my LAST (did you catch that…LAST!) longer appointment day at the hospital.  Labs, oncology appointment with Dr. Cheng, and then my LAST Herceptin.  Prayers being said, fingers are crossed, knocking on wood, that all goes well.   If so I should then "graduate" to every 6 month oncology appointments.
The updates have been few and far between this summer, but that's just because I'm too busy making the most of life to sit down and type it out.  For those of you who are still keeping up with my journey, thank you and know that I pray for you too.  The journey isn't over for me yet, so know that I truly appreciate any time you remember me in your prayers for continued good health.
JJ Watt Fun Run/5K (OMGosh I am tiny next to JJ and these current Badger football players!)  And a family pic with our finishers!